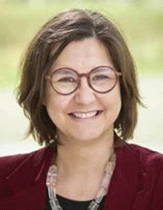 Vicky Karkou is a dance movement psychotherapist, educator and researcher with lengthy experience of working with vulnerable populations in hospitals, schools and voluntary organisations.  She holds the chair of Dance, Arts and Wellbeing at Edge Hill University, England, and has been awarded the title of Honorary Doctor of Medicine from Riga Stradins University, Latvia .  
She is currently leading the Arts for Wellbeing Research Group that falls between the Department of Performing Arts and the Faculty of Health and Social Care.
Vicky travels a lot for teaching and research purposes and publishes widely. Next to her academic career, she holds a small private practice offering psychotherapy and supervision.
Karkou V and Sanderson P (2006) 

Arts Therapies: A Research-Based Map of the Field

.

  Edinburgh: Elsevier Publishers
Karkou V (2010) 

Arts Therapies in Schools: Research and Practice

.

 London: Jessica Kingsley.
 Karkou V Oliver S and Lycouris S (2017) 

The Oxford Handbook for Dance and Wellbeing

.

 New York: Oxford University Press.
Zubala A and Karkou V (2018) Arts Therapies in the Treatment of Depression: International Research in the Arts Therapies. In collaboration with the European Consortium for Arts Therapies Education (ECArTE). London: Routledge.