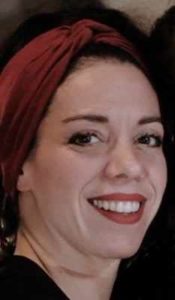 Anni Ntoumouzi graduated from the Music School in Thessaloniki.She then went on to study acting and now works as a professional actress. Since then she has worked for numerous theatre companies including the National Theatre of Northern Greece.She also works in Theatre in Education and gives lessons on theatre games to children and teenagers.
She has attended the educational courses with the title "Voice in Singing" (2018-19) and "Music Therapy։Theory and Practice" (2019) of National and  Kapodistrian University of Athens.
She has been a member of various choirs for 13 years.
She has participated in many seminars related to theatre and voice and she is grateful to have met the voice teacher Valia Mauridou who is still teaching her.
Since 2009 she has been very active with polyphonic singing and has gathered the experience of combining different polyphonic songs from all over Greece.
Having been a member of polyphonic groups "Apotheri" with the focus on traditional songs around Greece and "Fones" on songs around the world she has traveled in Greece and abroad spreading the magic power of polyphonic singing.
Her enthusiasm over polyphonic singing makes her study voice and singing within a group and work on how a new song emerges from each group.
The last years she runs annual workshops related to polyphonic singing and summer courses as well and she is a member of polyphonic singing group "Dioni".