Dance Movement Psychotherapy: Personal Myth and the Moving Body
With Angeliki Bitzaraki
July 24 - 31, 2019
Returning for the sixth consecutive year!
This will be a week informed by principles of dance movement psychotherapy that will encourage us to enter a journey of discovering personal myths through our moving body. 
On mountain Pelion, a place full of its own mythology, this week-long workshop will aim to bring us in touch with and allow for movement-based creations that exceed simple storytelling.  We will see body-based myths as creating connections with our own roots and with the world we live in. The impact of these movement-based myth-making processes will be considered for their impact on our current lives and for our aspirations for the future.
Throughout the week there will be encouragement for full presence and deep connections with our bodies, others and our environment.
There is no need of any previous dance or psychotherapy experience.
The workshop aims to a personal development process; it is not a psychotherapeutic context.
The participants will need to be in a readiness state to work throughout their personal process.

The facilitators are qualified Dance Movement Therapists. They will bring their knowledge, experience and training aiming to facilitate personal growth.
The workshop has a limited number of participants, book in advance
Workshop language: Greek and English (with parallel translation if needed)
*for more information about Dance Movement Psychotherapy: 
https://admp.org.uk/dance-movement-psychotherapy/what-is-dance-movement-psychotherapy/
Leader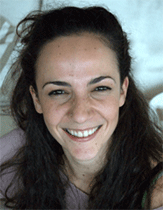 Angeliki Bitzaraki
Angeliki Bitzaraki's Bachelor studies were in Social Anthropology. She was then trained in the non-directive intervention (NDI) approach before she received her MSc in dance movement psychotherapy in Scotland. As a qualified dance movement psychotherapist she has experience in working with children with psychosocial needs, people with chronic pain, autism and psychiatric issues. She lives in Thessaloniki working with adults in the psychosocial rehabilitation sector and with children and adolescents with special needs. She also offers psychotherapeutic sessions in private…
Learn more about Angeliki Bitzaraki