Into the Woods – Yoga and Healing Arts Retreat
With Judith Grob and Janie Orrell
August 24 - 31, 2019
In Greek mythology, the Pelion region is considered the home of Chiron the centaur, who was the healer of the Gods. Inspired by the Pelion forest, the mountain, the waterfalls, the golden sun, and the sea, we will work with the elements of nature as we set out on a healing adventure combining yogic wisdom, visual arts, shamanism and play.
Healing Practices 
Yoga:  Each day will start with a gentle yoga practice which is suitable for all levels. The sessions will either be Sivananda Hatha Yoga with Janie, or Kundalini or Hidden Language Yoga with Judith. Each class will focus on using the body as a tool for self-reflection rather than attaining the perfect pose or yoga body. Morning yoga classes will be deeply relaxing, setting the tone for each day and creating a firm foundation for all other practices throughout the retreat. 
Creative Arts:  During the art sessions, we will use clay, paint, mixed media, found objects and sound, to explore our inner stories, and open up to the creative self. When we give ourselves permission to play and make mistakes, our experience can be filled with creativity and spontaneity as we learn to develop trust and meaning through the artistic process.   
Sound and Silence: Silence and sound are nature's biggest healers. When we take time to be still, we can follow our breath deep into the earth and listen to the song of our soul. During the retreat we will use silence, meditation, shamanic sound work, mantra and heart songs to connect with our inner life-force. No meditation or singing experience necessary.  
Sacred Touch: Positive touch nourishes, relaxes and heals on many levels. Modern busy life sometimes leaves us disconnected from the benefits of healthy touch. Learning massage is a great way to reconnect with ourselves and others. We will learn a set of simple massage techniques, which can be performed on skin or over clothes. We will work with clear boundaries to create a safe non-sexual space for healing touch.  
Dream Work & Reflection:  During the night, our inner wisdom awakens. By looking at our dreams, we can learn to decipher their symbolic messages. We will employ a dream yoga method that lets you be the interpreter of your own dreams. In our days together, we will also reflect on our waking experiences through journaling, and by sharing our insights with one another.
What to expect
Daily rhythm: Our aim is to create a wonderfully relaxing space which nourishes you as a whole person. Every day starts with yoga. Then after breakfast follows a session of healing arts, in which we connect with the theme of the day and the rhythms of the group. Afternoons after lunch are for exploring the lushness of the mountains, forest and sea, getting to know each other, or simply relaxing in a hammock. Before dinner you are asked to help the community a few times with gardening, watering, doing dishes or preparing meals. This is a great way of connecting with the community and giving back. After dinner, there might be a fire, a song circle, a dance or simply time for being rather than doing.
Amenities: Our workshop space is a wonderful sheltered dance platform overlooking the forest. Accommodation is basic with options of sleeping in a tent or being in a single or shared room. Food is vegetarian with lots of lovingly grown produce coming from the community's own gardens.
Is this retreat for you?
We welcome all adults who are looking for a creative, relaxing and inspiring week. You can be single or in a partnership, a seasoned yogi or artist, or an absolute beginner. As long as you are willing to open your heart to the magic of the moment… Come and find us in the woods and let the rest take care of the rest.
Leaders
Janie Orrell (UK) and Judith Grob (NL) met at Kalikalos in 2018 and found each other in a mutual love for yoga, nature and a zest for life.
Leaders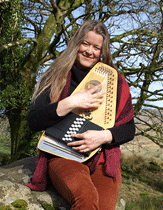 Judith Grob
Judith has lived and taught yoga at Yasodhara ashram for over 2 years, and is also a certified Kundalini 3HO yoga teacher. She has worked and studied in the Netherlands, the UK, the US, Canada and Germany and has a PhD in emotion psychology. She has a rich and varied background in personal development work, and continues to develop and explore her own journey of transformation and healing through yoga and music. She is a passionate singer-songwriter who loves to…
Learn more about Judith Grob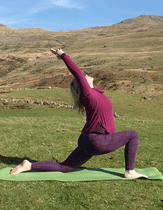 Janie Orrell
Janie is a seasoned yoga teacher. She received her teacher training in India from the Sivananda tradition in 2004 and was initiated into Surya and Kundalini Kriya Yoga by Yogiraj Gurunath Siddhanath in 2008. The essence of her work revolves around helping people to develop the tools for transformation through stillness and relaxation. She also loves to chant mantras, make sounds, and listen to the quiet spaces in between. Janie has a BAHons degree in the fine Arts and many…
Learn more about Janie Orrell