Polyphonic Singing
With Anni Ntoumouzi
July 3 - 10, 2020
POLYPHONIC SINGING
Singing is a holistic experience and requires the full participation of body, mind and spirit.
Within a friendly environment we will have the opportunity to discover the full potential of our voice and reconnect with the music nature that exists within us all, right from the moment we are born.
Through games and experimentation and in an atmosphere of absolute acceptance and encouragement we will be able to express and live polyphonic singing also as a way of sharing, expressing and coexisting.
Participants will explore different expressions of polyphonic singing.We are also going to work with voice experimentation and sound production individually and within a group.
We will explore breathing as well as the space that takes in our body and how this awakes different sounds and voice.
Through specific exercises, playfulness and interactive games the group will observe how both the external and "internal" environment affects our voice.
With improvisation we are going to synchronize our voice with the voice that the group creates.
At last, the group will have the opportunity to learn different kinds of greek and international traditional polyphonic songs and thus acquire deeper understanding of the magic of participating in polyphonic singing.
Contact for more information
Anni Ntoumouzi: Tel: 0030 6938123144
Email: antoumouzi@yahoo.com
The workshop has a limited number of participants, book in advance
Workshop language: Greek and English (with parallel translation if needed)
Artist: Susan Cohen Thompson
Leader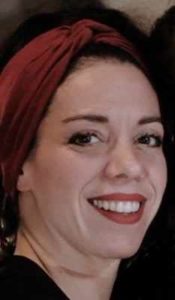 Anni Ntoumouzi
Anni Ntoumouzi graduated from the Music School in Thessaloniki.She then went on to study acting and now works as a professional actress. Since then she has worked for numerous theatre companies including the National Theatre of Northern Greece.She also works in Theatre in Education and gives lessons on theatre games to children and teenagers. She has attended the educational courses with the title "Voice in Singing" (2018-19) and "Music Therapy։Theory and Practice" (2019) of National and  Kapodistrian University of Athens.…
Learn more about Anni Ntoumouzi