Yoga – A More Personal Practice
With Kate Nirlipta
June 13 - 20, 2020
Systematic tension release muscular, mental and emotions.  Profound yet simple, creating change.
Are you seeking a more personal, restorative and life changing retreat?
Our 8 day, 7 night Yoga Immersion is the perfect option. Learn the relaxation practices of Yoga Nidra with more spaciousness, time for reflection and optional theory sessions.
This immersion includes:
 Yoga Nidra,
 Breathing Methods,
 Restorative Yoga,
 Creating change by discovering your Sankalpa, &  Chakra exploration.
You will explore tools to systematically address the tensions in your body, mind and emotions. The methods taught will assist in the release of deep muscular, mental and emotional tension, bringing calmness and clarity for a range of life and health situations.
Yoga Nidra is a profound, yet simple practice that leads to a state of being in which the mind lets go of the external world to give your senses a deep rest from the activities of modern humanity. Your mind is gradually trained to connect into effortless calm. Yoga Nidra systematically releases tension held in your muscles, breath and nervous system. Ultimately it works on the mind as it releases impressions from the past and anxieties about the future.
Breathing Methods & Restorative Yoga
We all have the ability to alter the breath at will. When you practice the techniques, you gain the ability to nourish and optimize the body and manage the mind and emotions. The benefits of the Breathing Methods and Restorative Yoga include:
 dismantling of chronic tension patterns,
 enhanced immune function,
 effective cellular respiration,
 improved cardiovascular system,
 reduced mental and emotional tension,
 a natural state of ease and equilibrium in body/mind.
Sankalpa
Your sankalpa allows you to find and clarify your deepest and highest potential. The sankalpa is a short, positive statement of resolve, repeated mentally whilst dropping into a state of deep relaxation. This is where one of Yoga Nidra's amazing potentials comes in. It brings you to the midpoint between waking and sleeping, allowing conscious access to the subconscious and unconscious layers of mind. In this subtle state of receptivity your sankalpa is planted in the unconscious mind. Remember that whatever is in the unconscious layer of the mind effects the waking state and the experiences of daily life. Using your sankalpa regularly brings about your desired changes in thoughts and actions.
You will learn to:
 Focus on physical, mental and spiritual energies
 Use your sankalpa,
Regular practice will lead you to not only short-term life success, but
also support the alignment of all parts of the self. It is a tool to plant
whatever you desire and the only limitation is the imagination.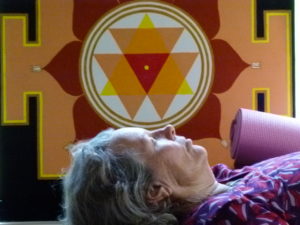 Leader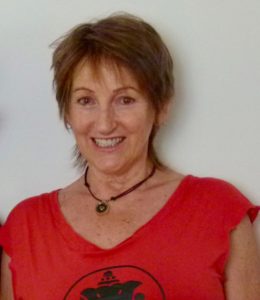 Kate Nirlipta
Kate Nirlipta has built upon a lifetime of experience. Each part of her life and professional history has come together, layer upon layer, enabling her to make a rare contribution to lifelong wellbeing and healing. Kate's professional life in South Australia began as a nurse, followed by a study of social work at the University of Adelaide. This helped develop her belief for the need to integrate medical science with wider forms of healing. With yoga – a statement of…
Learn more about Kate Nirlipta