Saying Yes to Life
With Kasia Sikora
August 7 - 14, 2021
REGISTRATION OPEN! We are gifted with life, yet sometimes instead of making a beautiful life, we are lost in making a living. You would be surprised how saying yes to life – a conscious yes, enables us to get into the flow of life, to open up to a new meaning of life. It has to be done not only on mind level but body and spirit. This workshop is designed for people who want to discover why there is a persistence of feeling or being stuck, why love doesn't flow, why our business is not flourishing, why our financial situation is a struggle, why our weight is keeping us down, why our relationships are repetition of the same pattern, why we are bored and life seems colourless, why we feel low, tired, addicted.
This workshop is also aimed to people who want to add more beauty into their life,who want to deepen their connection to themselves, to divinity within, who want to see more of amazing stuff, to develop night dreams, to get more inspiration, to relax, who want to explore what happens next once we experience less and less troubling issues once we are happier.
We are going to use conscious breathing on the land and in the sea-rebirthing and family constellations, we are going to look at our patterns in our lives, how to shift them via breath and family constellations.
Through family constellations, we will connect with the energy of our family on multi-generational level not understandable by mind yet employed by it.
We take our breath for granted but used consciously, breath melts frozen patterns, releases traumas heals us on a body-mind level, opens our hearts.
We will look at our life from a larger family perspective, we will look at our identifications, entanglements .reasons and blessings. Purpose meets purpose, we will connect our doing with our being. It is a workshop which you will leave with tools- inner tools you can always apply in your life, plus you meet new like-minded friends.
For more information contact Kasia
Email  kasiabreath@yahoo.co.uk    Phone: 0044 (0)7506986473
Leader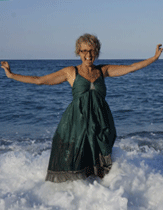 Kasia Sikora
Kasia Sikora is a Rebirther-Breathworker with 32 years of experience and Family constellations practitioner trained in the UK. Polish , childhood spent in Egypt, living in London, trained in many healing modalities but Rebirthing and constellations are passion, love, long-standing friends, meditating last 30 years, working with dreams which are becoming a side effect of conscious breathing,all year round swimmer in lakes, winter swimming even more added to the blessings of breath, run groups, and her one to one practice  in London…
Learn more about Kasia Sikora