Playtime for Grown-Ups
With Alison Goldie
September 8 - 15, 2021
REGISTRATION OPEN!
Come as you are to this vibrant and life-affirming course in which Alison Goldie will be teaching the art of improvisation. Through the playing of games and exercises which will stimulate, enlighten and amuse, this highly experienced teacher will hold the space for you to grow your confidence and creatively express yourself in new and exciting ways. Drawn from work which originally coached actors, improvisation is now an international phenomenon, and is played for its fun and life-skills by people in all walks of life. The classes build gently from simple group warm-ups to physical and verbal games to playing characters and creating dialogue and scenes. The whole course is a perfect holiday activity, bonding you with others through play and giving you more freedom as an individual to be spontaneous in your adventures both large and small.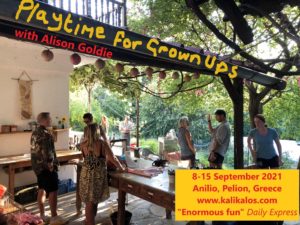 What Happens in the Course?
We start with games in which we get to know and trust one another and move into exercises to stimulate the imagination and remind us of the great creative resources that we all have inside us. Then we'll learn the basic building blocks of storytelling and through a series of brilliant games find our way to telling satisfying stories with words and/or action in groups or pairs. Using various playful techniqu
es, we'll discover how to create characters which we'll love to play. With the subject of status, we'll uncover eye-opening information about human psychology and the power-games that all of us play. All through the course, we'll be using and practising the fundamental improv principles of Saying Yes, Not Blocking, Not Planning, Not Judging and, most importantly, Making Lots of Mistakes and Realising they are the Best Bits.
The workshops will give us confidence and the ability to think on our feet. They will unlock our limitless imaginations which will have multiple applications when we're back at home. They broaden performance skills (for life and art), motivate mind and body, encourage team-work and collaboration and release lots of laughter in the process. Each class gently and incrementally allows participants to step further outside their comfort zones, remember how to play with the joy and inventiveness of children and appreciate what has been achieved with adult reflection.
The process is accessible and adaptable: Alison will take the measure of the group each day and tailor the next session to their abilities and preferences (spontaneous teaching!).  
Testimonies
'I haven't had so much fun on a course for YEARS!! Alison was magnificent as a course leader. She clearly knows her subject VERY well and was able to demonstrate AND teach it very effectively'
Improv course participant, Cortijo Romero, Spain 
'In Alison's improvisation we learned about what makes things funny and performed sketches to develop our comedic skills…it was enormous fun and my sides literally ached with laughter.'
Rachel Baird, Daily Express
'The learning and fun happened in a safe environment and the "the building up" step by step towards more advanced exercises happened in a natural and supportive way.'
Ann Mariel Kvaale, participant, Skyros Holidays
'Inspired me more than I could have imagined. Hugely challenging and rewarding.'
Improv class participant, Skyros Holidays
'Alison strikes the perfect balance between friendliness and authority.'
Hilary Strong (National Council for Drama Training)
A Typical Day
07:00 – 08:00 Yoga, meditation
08:00 – 08:40 Breakfast
09:30 – 13:30 Playtime for Grown-Ups workshop
13:30 – 14:30 Lunch
14:30 -18:00 Free time for your own spontaneous adventures, walks or trips to the beach
18:00 – 20:00 Community work time
20:00 – 20:40 Dinner
21:00 -23:00 Socialising and evening activities (improvised singing anyone?!)
23:00 – 07:00 Quiet hours
The price includes the course, accommodation and three vegetarian meals a day. If you'd like to ask any questions of Alison, please contact her through her website www.alisongoldie.com
Leader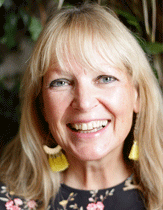 Alison Goldie
Alison Goldie is a drama facilitator and life-coach. Her background is in theatre and broadcasting as a performer, director, teacher and roving reporter. All her work is about communication and creativity leading to self-knowledge and greater understanding of others. Her speciality is improvisation and she has worked with a diverse range of people all over the world to help them enjoy their lives by embracing fun, laughter and spontaneity. Her book The Improv Book: Improvisation for Theatre, Comedy, Education and…
Learn more about Alison Goldie