The Humourous Self Within Us: A Theatrical Workshop
With Nina Adamopolou
July 7 - 14, 2021
REGISTRATION OPEN!
Good fortune will always visit a house that laughter exists.
– Japanese quote
Humour, I think, is ingrained in all of us. Especially if we think that humour can be considered a key mechanism of preservation in difficult and awkward moments. It is believed that people with a strong sense of humour have survived a series of difficult situations.
However, humour is also a creative choice on how to see life.
Simply because it gives you the opportunity to realize that there is always another version in each scenario. A version that will lighten the moment, will provide a solution, or will make things roll again and find their rhythm. So, humour, as catalyst? Yes, why, not.
With all these in mind, I have created a workshop oriented to playfulness, humour and comedy.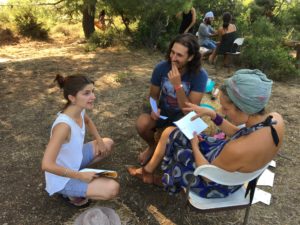 What we will be doing in this workshop? We will be working extensively with self-observation in order to achieve a wider perspective of our self but also we will boost and encourage the joy that we experience by collaborating with others.
A good warm up would accompany us daily. This will include easy breathing and vocal exercises as well as some stretching and playful group games. This is to discover and strengthen our vocal and physical presence and to practise over our reflexes and stimulate the energy levels.
We will be approaching basic character building using tools from various techniques. For example, techniques taken from Physical and Device theatre principles that include a lot of improvisation that focuses on creativity, imagination and self-expression.
We will also be working with scenes from famous theatrical comedies and scripts from movies. So, the participants will have the enjoyment to really perform. And the goal would be the whole procedure of the work to end up at an open small performance.
Eventually we will be learning to experience the stillness of right here right now. Exactly the way it feels when we surrender by cracking up into a laughter.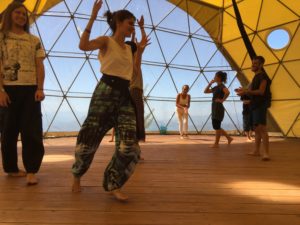 The workshop is very appropriate for those who work with people and and for people (audience) actors, performers, teachers, parents and everyone who feels like inviting the humorous self to stand by their ''serious'' one.
Please, book in advance because the workshop would have limited number of participants.
Light and comfortable clothes would be needed.
Leader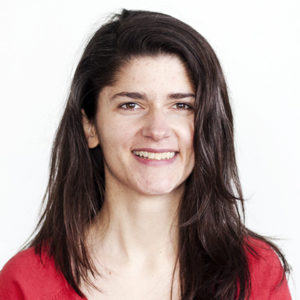 Nina Adamopolou
Nina Adamopoulou is an actress that lives and works in Athens. She has completed her acting and theatre studies in 2004 at the Contemporary Theatre of Athens of G.Kimoulis. She later participated extensively in ballet and contemporary dance lessons, Butoh dance and Alexander technique lessons as well as vocal and singing lessons to cover her need for a wider knowledge concerning theatre. She has also participated in numerous Physical and Devised Theatre workshops that really affected her work. In theatre…
Learn more about Nina Adamopolou