Communitas in the Forest: Bringing Community to Life at Kalikalos Anilio (Session II)
June 16 - 26, 2021
CANCELLED DUE TO DELAYED CENTRE OPENING Please consider joining us as a volunteer, community guest or workshop participant!
Do you long for a meaningful community experience? Want to improve and refine the community living skills you already have? Always wanted to try out different methods for living in community but never found the right time and place? Well here is some good news: summer 2021 is the time and Kalikalos Anilio is the place!
New for 2021, Kalikalos Anilio is proud to offer "Communitas in the Forest," a unique opportunity to learn by doing and co-create through experimentation. Shepherded by skilled members of the Anilio Core Team, we offer you the chance to learn, practice and refine skills for communicating, working together and transforming conflict in a community setting. We offer two ten-day sessions of this program, one from 2 to 12 June and one from 16 to 26 June. While we hope you will join us for the full ten days, there are options for early departures. Due to the nature of the program, we are not able to accommodate late arrivals. There are limited spaces for each session, so please consider booking early.
Each day of the program, we offer learning and practice sessions primarily in the morning between 9:30 AM and 1:30 PM. Each afternoon is free time, with transportation available to and from local beaches. Some evenings we may offer additional learning sessions or opportunities for fun and connection. In addition, we ask all participants to contribute to our Rota system for meal preparation and cleanup.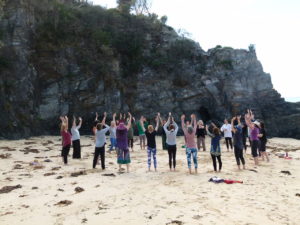 Here is the day-by-day Session II overview, subject to adaptation and evolution as we learn and grow together:
Arrival and Welcome

(June 16-17)

On June 16 participants arrive on site, settle in and enjoy our first meal together.

We begin our first full day together with the traditional Kalikalos Community Meeting, where we get to know each other and orient ourselves to the community rhythms for working and learning together.

Phase I: Mutual Learning

(June 18-20)

The next three days feature Embodied Learning sessions in the key community competencies of interpersonal communication, collaborative self-governance and conflict transformation.

These sessions are typically led by one or more members of the Core Team. We use the Embodied Learning framework to provide an engaging, experiential and fun opportunity for learning on many levels.

Pause: Transition & Integration

(June 21)

Connect, reflect and consolidate learning in small and large groups.

Celebrate our learning community and our transition into exploration and practice.

Phase II: Exploration

(June 22-24)

Our framework for the Exploration Phase is

Open Space Technology

(OST), a learning structure that provides a balance between freedom of choice and self-responsibility.

In the OST framework, any community member may offer a session on any topic. Participants choose which sessions to attend.

Each day begins with a community circle and marketplace, followed by OST sessions. On June 22 we will also offer a brief introduction to the principles of OST.

Integration & Wrap-Up

(June 25)

Our final full day begins with a community circle, followed by small group connection activities. We finish the morning with a full group Retrospective where we harvest the wisdom gained during our learning journey and celebrate what we have experienced together.

On our last evening we gather for Fireside Sharing, a long-standing Kalikalos tradition for expressing and receiving appreciation for the experiences of the week.

Departure

(June 26)

Following breakfast, we invite participants to clean their room / tent and say goodbye before departing.

Late departures and extended stays are also available, space permitting.