Family Community Holiday
With Maria McCarthy
August 3 - 10, 2019
Kids and parents get the chance to run wild for a week of fun and friendship on the Family Community Holiday.
Our mountainside forest community has a daily rhythm, which goes something like this.
After a delicious buffet breakfast, we gather for songs, dancing and fun games. Later in the morning after a fruit break, we do arty crafty stuff together. Things we have loved are building a primitive pottery kiln, making and firing ceramics and helping a local family to build their cob house.  We have taken a meditative walk in the forest and painted our experience on a beautiful group mural. One year I invited a local English artist and we spent a beautiful day doing eco printing and each child and adult created a silk hanging. This year I am hoping to invite a local craftsperson to show us the traditional Greek art of soap making with olive oil. We encourage and support parents and children to join in with these arts and crafts, but most of all, we want you to be yourself and enjoy! There is a lot of space for children to roam freely and safely.
After lunch, we head down the mountain to the Aegean for an afternoon of splashing in the beautiful blue sea or resting in the shade.  Or we go wild swimming in mountain plunge pools and waterfalls in the local area.
On our return from the beach, some of us join the community to help out with the cooking or watering of the gardens. This is a great, fun opportunity for kids to learn life skills. Others hang out on the hammocks or play on the swings.
Our evening vegetarian banquet is followed by a cleanup party and then the evening usually unfolds in candlelit song, chat and fun. On Tuesday night we go to a taverna, which is not included in the cost of the holiday and is preceded by a dance in the Long Room.
Leader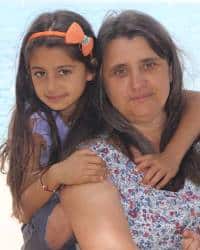 Maria McCarthy
I live and work in Greece and am a mother of two children. For many years, I was a lactivist and supported a local breastfeeding group and this remains a passion of mine.  I love music sessions and play the guitar and sing. Just before my 50th birthday, I joined a rock band! I'm a trained and experienced lay-counsellor with an international organisation called Re-Evaluation Co-Counselling.  I try to do yoga and walk daily.
Learn more about Maria McCarthy