Your Inner Power
With Jeannette van Uffelen
June 1 - 8, 2019
"The best experience you can have is the experience of changing your mind. Give yourself permission to do so. You're worth it."
WHAT: workshop
Our Subconscious Mind is wiser and faster. Everything we need to know is there. When you choose to change your emotions you can transform your life. I teach you techniques to improve the working of your mind, body and spirit. There will be theory about these techniques and the research behind it. And you will immediately experience all of it by PRACTICING in an easy applicable way.
HOW: techniques
Tapping on meridian points

Like it's done in TCM (Traditional Chinese Medicine), TFT (Thought Field Therapy) and EFT (Emotion Focussed Transformation) to relax your body and to let go of what's bothering your mind.

Improvement through self love and self talk

Self hypnosis, brain frequencies and how to use this as a source for good, to get better results for yourself, your relationships, your (mental) health.

Tap into your creativity

The seeds for everything you want to be are already inside you. It's all there! You learn to tap into your creative mind and to start doing without the need to be sure and know HOW to do it and WHAT exactly.
WHY: Using these techniques will:
Change negative and limiting programs, habits and beliefs.

Create a loving relationship with yourself, the others and the world.

Help you to let go of what you don't need anymore.

Make you realise who you really are and what your purpose is.

Give you courage to do what you've been longing for.
Using these techniques will also help you to get rid of stress related problems and recover from disease. You learn to relax your mind, no matter the circumstances, by using practical TAPPING and RELEASING stress at anytime.
There's plenty of room for individual work (on the 'hot seat') in the group. We use different styles of learning; we talk, we move, we meditate at different spots in the mystical beautiful area of The House of The Centaurs.
There will be some opportunities for individual ERT (Emotion Replacement Therapy) sessions in the evening (not included).
Comments by people last year in Kalikalos
"Thank you for your support whilst you were in Greece, I'm not sure if you realise how comforting your very being was to me. I also believe you to be a great role model and inspiring lady.
"Your presence at Anilio made such a difference – it was so nice to have someone so grounded and comfortable around – even when we weren't talking.
"Very interesting and you made it so easy to get it. Deep stuff very practical! There's a fine balance in theory, practice, group, individuals, seriousness and playfulness.
"Jeannette's work is multidimensional, profound, curious, kind, and still down to earth. I could almost call it fun, if fun can also include quite a bit of cleansing crying! I am grateful. Read more about this here.
Daily schedule
We will start out the day at 7:00 AM with a variety of body-work exercises to start out feeling relaxed, energized and grounded in experience. After breakfast around 8:30 AM we will do the workshop in the group from 9:30 AM until 1:30 PM.
We will have a lunch together and enjoy some leisure time. We can go to the beach, hike and swim together or … have some time just for yourself.
In the late afternoon, we will cook together and do maintenance, take care of the organic garden, pick some fruits, laundry, stuff like that. We all help to keep the place running well. We are with many, so It's little work to do for each of us.
Dinner around 8:00 PM. In the evenings, we will hang out around a campfire, lie in hammocks, read, talk, sit, sing, be silent, play, rest … and celebrate life.
Leader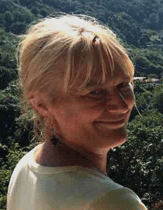 Jeannette van Uffelen
Jeannette is a Mindset Behavior & Stress Release Specialist. Born and raised in The Netherlands, educated in Integral Psychology, Bodywork and a Certified Advanced Scientific Hypnotherapy, ERT and Faster EFT Practitioner. She's known for her skills of empowering people in a natural, practical, thorough and fun way. She works worldwide, is down to earth and what she does or says comes straight from the heart. Greece is her second home since 1978. Why Kalikalos? "It is the perfect chance to…
Learn more about Jeannette van Uffelen