Vibrant Alignment: How (and Why) to Move More of You
With Sarah Grace Kotzamani
June 12 - 19, 2019
WHAT IT'S ABOUT
 It's about getting all your parts to move, for healthy and natural movement. Even if you're active, most of us have sedentary spots, "sticky spots" from habitual positioning, that can clamp down on blood flow and joint mobility, and you just know that leads to trouble and pain.
Alignment makes you vibrant! It's not the same thing as Posture, it is a measuring tool you learn so that no matter what you're doing you can know what the various parts of your body are up to.
Are you using your back to do everything instead of your legs and arms (and butt)?
Are you falling forward instead of walking?
What parts of you are tensed-up and not allowing blood, lymph or energy to flow, and you didn't even know it?
You'll learn how to see it, change it, and take that into your daily life and any movement or practice you want to pursue.
The workshop curriculum is based on the Whole Body Alignment paradigm developed by Katy Bowman, M.S., of Nutritious MovementTM, along with elements like massage therapy, reflexive and developmental movement, and in-depth anatomy studies.  Another facet is about movements and positions that are natural for our human bodies ("natural movement") – what we evolved doing and therefore what we actually need in order to keep things working well – and how to bring that into everyday life.
WORKSHOP PARTICULARS
During the 6 days at Anilio campus, every day will be an open, informal, and playful 4-hour workshop, honing in on one area of the body — e.g. feet, knees, hips, core, shoulders and neck. Even though each "workshop" may emphasize looking at one body part, we'll always look at (and work with) how what one part does affect the alignment of the rest of the body, and vice versa.
Each day is a movement class throughout, even as it's also an information-packed, anatomy-based lesson. Some of the exercises and "self-bodywork" are active and others are more positional; all are by their nature designed to be safe, since the work itself is about learning what your own body's boundaries are and how to safely expand on that.
Most of the class will be held in the open-sided pavilion dance-floor, surrounded by greenery, but we will also venture out into the forest to learn the most nourishing ways to walk, hike, and frolic in the trees!  You will move exactly however much you are inspired to move. No pressure, no competition – just community, learning, and enjoyment.
DAILY SCHEDULE:
7 AM: Bonus (optional) yoga or meditation session
8 AM Breakfast
9 -1:30 Our workshop
1:30 to 2:30 PM: Lunch
2:30 until 6 PM: Everyone can do whatever they want, including either getting a ride to the AMAZING beach or hiking there (45 minutes), or doing nothing at all!
6 – 8 PM: This time is usually when we take on any community work we are signed up for (or else we help cook breakfast).
8 PM: Dinner
The workshop experience at Kalikalos includes all of us participating in at least three community work shifts, things like weeding the organic garden, organizing laundry, cleaning, or helping in the kitchen. Many hands make work light, and fun.
The cost is €450, including accommodation (extra for a single room) and 3 vegetarian meals a day (except for one evening out at a restaurant). 10% discount if you book with deposit before  May 1, 2019.
Some remarks from past workshops taught by Sarah:
"Sarah is a fantastic teacher. She cares deeply that we understand the process, and presents the material with humor and grace. Her depth of anatomy knowledge is also a big help. I highly recommend any of her classes"   Uma, HImachal Pradesh, India, 2017
"Thank you again for great workshop! And not just that. For your experience and knowledge that goes far beyond this workshop.
And for all laughing"    from Jelena,  2016
"Getting the chance to meet Sarah has played a huge part in my journey to a more natural way of moving (and thinking about movement!). 
I've been using Katy Bowman's online resources to become familiar with some of the mechanisms of the human body and have also grown very interested in learning as much as I can about restorative exercise. 
When I found that Sarah Kotzamani had previously offered a MYDNA weekend workshop I immediately contacted her. A few months later, I had the pleasure to participate in the MYDNA weekend workshop 2018 in Naousa, GR. 
Sarah is an amazing teacher with a great talent for supplying clear explanations on exercises and questions. 
She is a very sweet person and her tender, compassionate approach on movement related topics is truly a breath of fresh air."
Callie Vei, 2018
"The two day MYDNA workshop with Sarah has been a life-changing experience. With no exaggeration, she taught me how my body works and at which points I can develop to gain a range of new movements, through Katy Bowman's seminar-workshop. I had a back pain, which with Sarah's instructions, and the understanding on how to restore my body's health, has gone away and I am confident it's gone for good. Sarah's knowledge on the human body is holistic. Plus, she is a caring and very determined person who can really inspire you to move forward. Can't wait for when our paths meet again."
Christianna Vei, 2018
Leader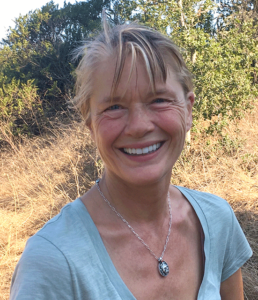 Sarah Grace Kotzamani
MFA, CMT, RES-CPT I've always loved movement, animals — and also sharing things I'm excited about with other people. I went to art school, where (besides the sculpture-making, of course) I got fascinated by human anatomy, my first yoga classes, and Capoeira. That was a great time – art school by day, Capoeira by night! I became a Pilates teacher in 2006, and since 2011 a Hendrickson Method® massage therapist.  I love helping people enjoy and understand their own bodies, doing…
Learn more about Sarah Grace Kotzamani