Transforming Our Dreams
with Angeliki Bitzaraki
July 23 - 30, 2022
"Go back and transform your dreams," an Amazonian chief answered to a group of white people wanting to give help to his tribe.
It's been a year now since I've heard this phrase at a conference on ''Collective Trauma." It had a definite impact on me. Yes! These words inspire me, give voice to a deep understanding of what is crucial and create a great challenge for this year's workshop and for the days to come.
I am Angeliki Bitzaraki and this is my call for this year's group work at Spiti ton Kentavron, in Pelion, Greece.
The work will be based upon the principles of NDI (Non-directive Intervention) approach in therapy, group facilitation and pedagogy and Dance/Movement Psychotherapy. It will be informed by updated body-based theory and practices from trauma related field work.
Simply speaking, during these days we are going to form a group in a safe space, take care of ourselves, deepen our listening and seeing to oneself/each other/nature, explore creative pathways for dreams to manifest, share and find new possible ways to realize, and act upon them.
We are experiencing very challenging times on an outer and an inner level. You are very welcome to join the group and have time to take care of yourself and space to dream awake for our future, our world.
This workshop is taking place at Spiti ton Kentavron every summer, for nine consecutive years, with the support, respect and love of the fellow members of the Kalikalos community. Many thanks to all of their present and past members.
---
The work respects the here and now of the group and the facilitator will follow the group dynamics and will be accompanying emerging desires with appropriate creative propositions.
During this 6 day long workshop we will follow this structure:
First days: Landing, becoming familiar with each other, taking care of ourselves. Warming up. Creating a safe environment.
The core of the week: Exploring dreams in a personal/communal/ecologic level. Finding ways for deeper connections with the group and with nature. Opening space for the nature to speak. Calling for the unknown. Silence. Exploring ways of listening, seeing, manifesting. Work in the sea, at night, in the sun-spring etc.
Closing days: Crystallization of the work. How our new understandings/experiences can be applied/linked in our everyday life. Call for innovative ideas.
We will work in a space where feeling safe will give us the opportunity to explore new possibilities of presence, relating and action.
Creative movement work and other expressive ways (art, sound, craft in individual, duo, group forms) will support this process.
The goal of this week is to open up the possibility of less closed/ego-centric conditions and more loving/ eco-centric connections.
This workshop is addressed to anyone who feels the need for deeper connection with nature, wishes for creativity to come along, longs for coming together and being inspired and encouraged for change, wants to work with others to support our resources, seeks for an opening of listening and seeing the dreams that want to be real.
The workshop's theory, methodology and philosophy follows Lobrot's Non-Directive Intervening approach (of psychotherapy, pedagogy and group facilitation) and Dance/Movement Psychotherapy discipline. Thus, we look for ways and conditions to create positive experiences that enrich one's resources and at the same time facilitate the emergence of desires for learning, communication, creativity, change and integration.
Previous dance or psychotherapy experience is not required.
The workshop aims to a personal development process, it is not a psycho-therapeutic framework.
The participants will need to be in an alert state in order to work throughout their personal processes. Participants need to answer a questionnaire before their registration (pre-registration)
The workshop has a very limited number of participants.
Workshop language: Greek and English (with parallel translation if needed)
Because of the sensitive nature of this work, registration is subject to approval by the leader. Please pre-register above to receive a qualifying questionnaire.
Leader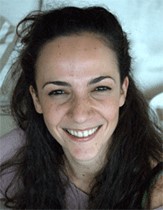 Angeliki Bitzaraki
Body/Movement oriented psychotherapist (MSc) Non-Directive Intervening Approach Social Anthropologist Angeliki is an active psychotherapist trained in the systematic and deep engagement of the body and its movement in the therapeutic process. She works in the mental health sector for the last 15 years. Her way of facilitating group processes organically…
Learn more about Angeliki Bitzaraki