Experimental Art Workshop
with Michael Gale and Sabine Schröpel
September 3 - 10, 2022
FULLY BOOKED!
A playful way to explore your creativity through painting, collage, mark making and drawing in a beautiful surrounding.
Our workshop will enable you to:
explore your creativity;
experiment with a wide range of art materials;
take your own artistic endeavours forward;
find playful ways into your creative potential, which may have previously been discouraged;
work with others and have fun.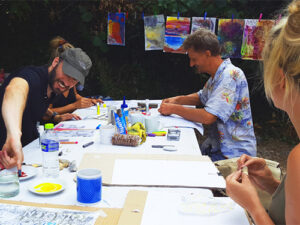 Each day begins with a short warm-up activity which might involve body work, sound or improv games. This enables participants to 'play' and follow their own creative impulses, and allow for inspiration to emerge. As experienced facilitators we are sensitive to individual needs, so the themes for our art-making may arise from the group, your own individual process or from the rich and inspiring land- and seascapes surrounding us.
We work for four hours per day, so there is plenty of time for you to explore the place, go for walks or to the beach.
What might you take home from our workshop:
a collection of interesting art work;
new experiences of working creatively;
inspiration from the beautiful climate and landscapes;
an easier access to your day to day creativity.
We provide all materials and equipment.
We work in a small group of max. 8 participants. Anyone can take part, regardless of experience – all you need is a willingness to experiment.
The creation of something new is not accomplished by the intellect but by the play instinct acting from inner necessity. The creative mind plays with the objects it loves. – C.G. Jung
View this video to learn more about the workshop and the process of experimental art from Sabine, Michael and others.
Michael and Sabine have been facilitating Experimental Art Workshops since 2013 in various places in the world and in Kalikalos Anilio since 2016. For further information please visit our website or for specific questions email us.
Leaders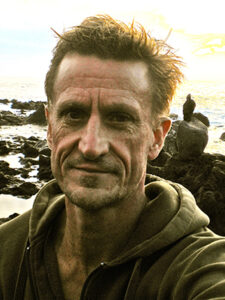 Michael Gale
I am a practicing painter and maker; art teacher and registered Art Therapist. I trained in Fine Art in the 70's, and while teaching art in mainstream and special schools, became fascinated by the healing potentials of art making. I completed a three year post graduate training in Art Psychotherapy…
Learn more about Michael Gale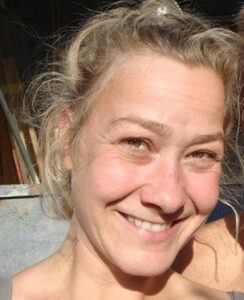 Sabine Schröpel
I am a trained architect, freelance artist and musician. More so – I'm an explorer. It is a joy for me to open the hatches to intuition, to cultivate an art and music making process that is inspired by the soul and grounds this energy in an authentic, embodied, open…
Learn more about Sabine Schröpel