Awaken your Voice
with Dorothy Rosser
July 13 - 20, 2022
Set amidst the wooded mountains and hidden coves of the Pelion, the perfect place to relax and enjoy a peaceful break whilst exploring the creative potential of your Voice. This warm and welcoming voice and singing retreat is the ideal opportunity to develop your voice and participate in workshops whilst offering the time to explore and experience one of Greece's most idyllic regions. This is the place in mythology a Centaur called Chiron was taught to sing and play the lyre by Apollo.
Do you feel invisible? Do you feel you are not heard at home or in the workplace? Are you intimidated by public speaking? Or is singing something you have always wanted to do but never tried it out because you believe you sing out of tune?
Join us in a six day summer retreat that will enrich and develop a deeper connection to your voice.
The voice is a powerful instrument, and singing is a well known recourse of well being and confidence building. Singing can be uplifting and expressive. Its also great fun and singing together in harmony can be a surprisingly powerful experience.
Finding your voice through voice development and song can be hugely life enriching. The session s are designed to be accessible to everybody with or with out singing experience. All songs are taught by ear so there is no need to be able to read music.
The week will also include a variety of meditative early morning Taizé singing , gentle morning movement ,breath work , sound baths and guided visualisations. Rhythm through sound making and vocal games, evening singing on the beach and the opportunity to have a dance.
All workshops are based at Anilio Centre, a relaxed and non Judgemental environment. Dorothy brings her many years of experience as a workshop leader, Voice coach and singing teacher to help you find the full potential of your voice.
The price (450 euros – early bird bookings paid before 1st June 2022 10% reduction )
Price includes full board of three delicious vegetarian meals a day made with fresh organic fruit and vegetables from Anilio Centre's Garden and seasonal local produce. You will be offered a room in the Anilio farmhouse or a comfortable tent with views over the garden and surrounding woodland and countryside. You will also be offered free daily lifts and pickups to the local beaches and waterfalls.
Leader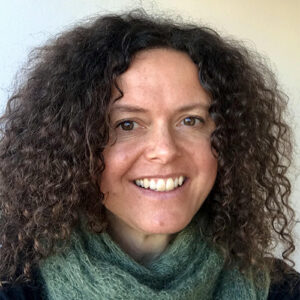 Dorothy Rosser
Dorothy is a voice and singing coach in Brighton, East Sussex, UK. She also provides voice training for Acting, Presentation Skills, Singing and Personal Development. Dorothy has an MA in Voice Studies from Royal Central, London. She is an accreted Voice Movement Therapist IAVMT and a Natural Voice Leader trained…
Learn more about Dorothy Rosser