Rhythmic Guitar and Singing
with Michael Haidas
July 12 - 19, 2023
NEW FOR 2023!
Come with your guitar and your soul
Imagine playing rhythmic guitar and singing with others in Greece. Combining learning with entertainment and enjoying yourself on holiday. Would you like to join us?
Over the duration of a week, we will meet each morning to practice vocal and musical harmony as a group.
You will become familiar with the basic open chords, improve your strumming technique and confidence in singing. We play classic folk-rock songs and Greek traditional and modern ballads
We explore and play together for expression, creativity and performance. You'll develop group skills for cooperation, cohesiveness and unity.
Music, singing and dancing is part of everyday life in Greece it's not unusual for musicians to bring their guitars along to a restaurant and jam together with friends and those who love to sing and dance.
Singing not only gathers people; it actually unites them. A song is the shortest distance between two people…and, guitar, in particular, is the instrument designed for the human voice – this instrument can accompany you everywhere.
Who can attend?
This week is for those with your own guitar and limited playing experience. It is for you if you want to immerse yourself in group formation as well as progressing your musical skills and repertoire.
Leader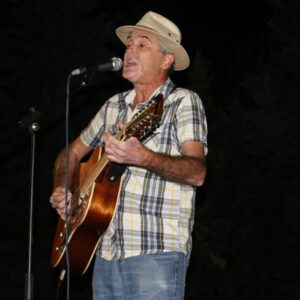 Michael Haidas
I've always been a music lover… … From my childhood years and teens I can remember singing with my guitar with friends and wanting to learn more and more about music – the greatest art form. As a young adult I performed professionally with various artists in concerts and open…
Learn more about Michael Haidas