Greek Vegetarian Cooking
with Marina Malthouse
June 8 - 15, 2024
DRAFT LISTING Learn how to cook traditional Greek food, both savoury and sweet whilst on holiday in Pelion, a stunning area of Greece. Indulge in the colourful combinations of Mediterranean herbs and vegetables, pulses and pies. We will create from recipes that have stood the test of time, passed down through generations, particularly women. Later in the day, we will dine outside in the garden and eat our flavoursome dishes alongside others staying in the holistic Anilio community.
Cooking classes are held each morning with afternoons free to walk, relax or spend time at the beach. If anyone has an interest in creative writing triggered by memories of food, I can incorporate this into our week together. My experience of creative writing stems from academia, being trained in running writing workshops and as a participator in several writing groups.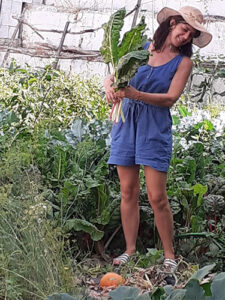 During the week, each of us will also contribute to the smooth running of the community which can include tending to the garden where fresh vegetables and herbs are grown for and eaten by the community. As a keen gardener, I can offer you the opportunity to learn how to grow and nurture these plants so that on returning home, your personal repertoire might also include growing and cooking with your own vegetables.
Leader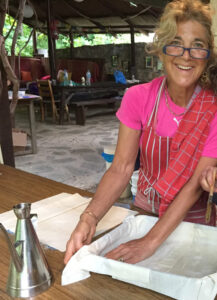 Marina Malthouse
My knowledge and practice of Greek cookery derives from years of experience cooking for large family and social gatherings at home, for guests on a Greek estate in Evia and more latterly, the Anilio community. A passion for wholesome, tasty Greek food was primarily learnt from my Greek mother who…
Learn more about Marina Malthouse