Summer Waves – Earth, Sea and Sky
with Neil Pinnock
August 21 - 28, 2024
DRAFT LISTING Summer Waves, invites you to immerse yourself in the Earth, Sea & Sky of this beautiful Greek landscape on the Pelion Peninsula. Renowned as the place where the Greek Gods would take their summer holidays, it is truly a magnificent and relaxing location for a 5Rhythms vacation. Our home will be the holistic community of Anilio on the chestnut forested mountainside overlooking the Aegean Sea. Here we will dance, share laughter, eat amazing local food, swim, explore the locality and participate in community. This will be a nurturing and transformative week of 5Rhythms dance, beach holiday, Greek life and community experience. All are welcome no matter what your 5Rhythms or dance background.
More than just a workshop, more than just a holiday.
Every morning we will dance together, using the 5Rhythms Waves as a guide and exploring our relationship to nature through the 5 Elements. We will give attention to our bodies through movement and breath, connecting to our selves, to each other and to the landscape.  Afternoons are for exploring or resting. We will invite the Greek sun to open our hearts as we bask on the beautiful beaches, chill in the shade of the gorgeous community gardens, jump into cool waterfall pools, or explore the enchanting local villages and cafes.  As the afternoon draws to a close, we participate in community life, assisting in a variety of activities such as helping prepare food or harvesting in the gardens. In the evenings the community draws back together to share a delicious Mediterranean meal and share highlights from the day or a few fun activities.
Join us on this workshop in the Greek sunshine. We will celebrate life and the body through the 5Rhythms dance & community living and make a few friends and memories along the way.
From just €600 (approx £525). Prices include all meals*, accommodation, lifts to the beach and workshop for a whole week. There are a range of options for accommodation within the community facilities, including single or shared rooms and camping.
*There will be a one meal and a few expenses on our day trip out. Some accommodation options may add to the price.
For more information visit –  https://www.neilpinnock.com/greece-summer or call  Neil +44 7761 856154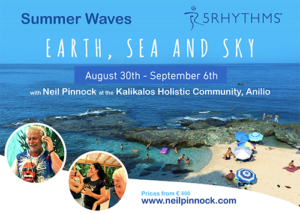 Testimonials from previous years
"Neil's wonderful enthusiasm and passion is infectious and does so much to inspire the success of the retreat. He's always looking for ways of adjusting and improving the experience for us all and the care he shows for his craft is fantastic."  P. Woodford
"I had a truly wonderful experience once which will stay with me. It was more than I could have hoped for in a dance retreat. I only wish I stayed longer and tagged on a beach holiday afterwards. Everything felt like it flowed the group became closer and closer over time and I was able to let go to a level I have never done before."  R. Moore
"I have been a deep meditator for years and have always met myself through physical stillness. For the first time, in your workshop Neil, I felt my stillness and center in dance, and understood that movement in dance is like movement in life. It feels more real and deep as it is the journey through everyday life, it's flow, staccato, chaos, lyrical and stillness."  C. Zampaz
'"The retreat in Greece was exceptional. One of the best weeks of my life. I can't believe that after 50 years I have finally discovered how I like to dance and experienced the power of expressing emotion through movement. This is a gift that will keep on giving… Thank you Neil for creating such a beautiful, safe space for genuine exploration and connection. And for choosing such an idyllic spot. The sunrise swims, mountain walks and community meals were all delightful. Loved every minute of it." Clare
Leader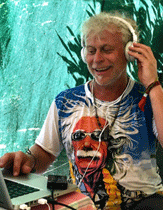 Neil Pinnock
Neil has been dancing 5Rhythms for more than 20 years and trained with Gabrielle Roth in 2007. He is passionate about the transformative power of the 5Rhythms in bringing people in touch with who they really are. Neil holds an accepting space that gives everybody permission for self-expression and connection…
Learn more about Neil Pinnock