Guided Walking & Swimming Holiday
with Michelle Brydie
August 21 - 28, 2024
DRAFT LISTING You are invited to join me for a week of walking and swimming in the beautiful mountains and coastline of the Pelion. These guided walks will lead us down kalderimis, old donkey paths, relics from the days when donkeys were the only mode of transport. We will explore many of the unique towns, villages and beaches, each with its own charm. We will walk down through ancient forests, discovering waterfalls and pools of clear water to dive in to cool and refresh us.
This holiday is more than just walking and swimming. It is a blend of movement, relaxation and living in community. Staying at the Anilio campus you will be immersed in nature. Nestled in the village of Anilio with chestnut forests below and filled with a glorious array of vegetables and flowers, there are beautiful spaces to eat, relax and socialise, you can sing and dance or just relax. The food is vegetarian and delicious. You are invited to help with simple tasks such as washing up, food preparation and a spot of gardening (you choose). This is a great way to meet and connect as well as feel part of the unique community of people coming together for this week. Please use the links in the main menu to learn more about Kalikalos and Spiti ton Kentavron.
A sample itinerary for the walking and swimming week may look like this:
Day 1: Arrival Saturday – meet each other, get acclimatised, explore your surroundings, evening meal.
Day 2: Sunday – a.m. – community meeting – lunch – p.m. – a gentle walk down to Plaka beach with a potential detour to a coastal church.
Day 3: Monday (all day) – a lift up to Kissos to explore the village and nearby pool, then walk down to Papa Nero beach.
Day 4: Tuesday (all day) – After breakfast, a lift to Tsangaradha for morning coffee, we will explore the different platias, then walk down to Damouchari for swimming and tavernas, then walk along to Papa Nero for pick up.
Day 5: Wednesday (all day) – After breakfast, drive to Mylopotamos, have a swim, explore the canyon, then walk to two more beaches along the coast, Limnionas and Labinou. We then retrace our steps to Mylopotamos (this is Taverna night!)
Day 6: Thursday (all day) – early drop off at Ski resort then walk down through the forest taking in several waterfalls and pools before making our way to the pick-up point. Or, if we are feeling ambitious we could do the mountain ridge walk from the ski centre to Kissos.
Day 7: Friday (all day) – Drive to Zaghora for a morning coffee and explore then get dropped off at Pouri and walk down and along the coast to Agios Saranda to be picked up again.
Day 8: Saturday – departure day.
NB: If there is rain we will head to South Pelion.
Guided walking holidays in Greece and Wales | Walks in Paradise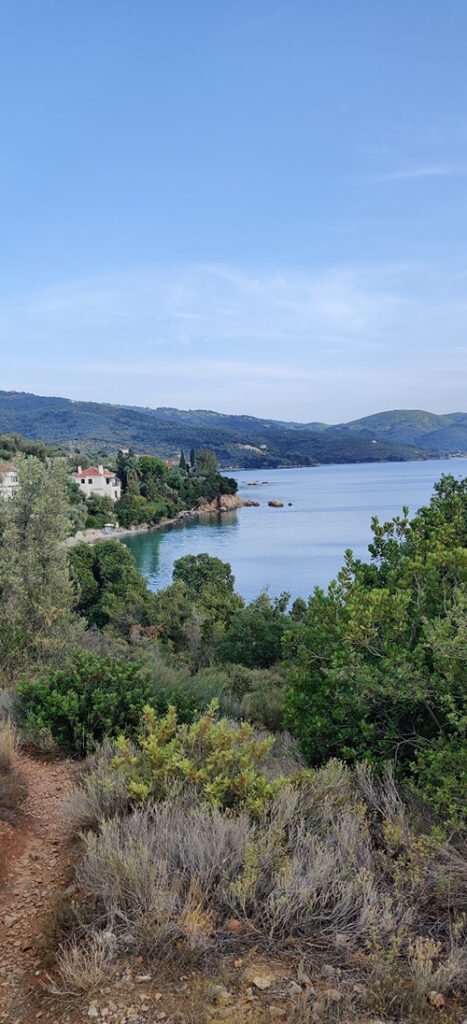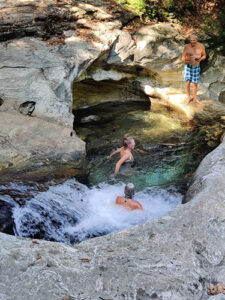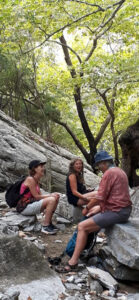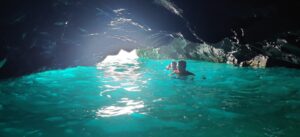 Leader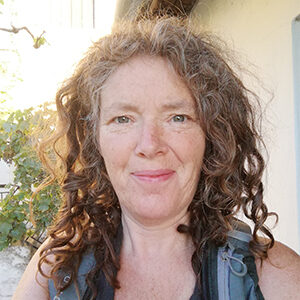 Michelle Brydie
I live in Mid Wales and have always been a great lover of the outdoors. As a child I enjoyed exploring the wilds of Wales and beyond and my love of nature and exploration continues. I am a qualified Walking Group Leader and hold a current Outdoor First Aid certificate,…
Learn more about Michelle Brydie