Anilio is the "Wildside" – Hidden in the Forest with an amazing Dancefloor
The Anilio Campus of the Kalikalos network is in a valley surrounded by wild chestnut forest a short drive or walk to crystal beaches.  It has more space than the other centres and has a large dance floor that opens to the forest. It hosts transformational workshops that take advantage of this natural space including dance, yoga and tai chi.
The living space is an authentic Greek farmhouse with beautiful views from the balcony, the eating area is shaded by a grapevine. This community is also known as Spiti Ton Kentavron, House of Centaurs, to honour Pelion's mythology.
Spiti ton Kentavron (STK),  is on the edge of a village called Anilio and this summer community has the feel of a large happy family made up of volunteer staff, guests and workshop participants. The food is great and abundant and many activities are offered to staff and guests alike.
Facilities
The 10 x 11m Lower Group Room is bordered by a chestnut forest and is a beautiful secluded space for workshops and activities.
The use of a 5m yurt for small groups and 1-1 healing sessions.
The House.
The Sanctuary, located on the north west side of the property, has a wooden deck where you can relax and meditate.
For the adventurous, there is a tree-house, which can sleep three people on two levels, a bamboo hut and several tents in and on the edge of the forest.
The dining area seats 30 in a beautiful vine-covered area.
You will also have access to free wi-fi internet.
Anilio Accommodation
In the House: The centre's main building is a former family home set in the midst of gentle woodland in the Pelion Mountains where, according to legend, dwelt the fabulous centaurs, half-man half-horse.
The building has been extensively renovated to cater for workshop groups–17 beds in six bedrooms, all with shared toilets and showers. The rooms in the house are simply furnished and have stone floors, which help to keep the space cool in the heat of the summer. There are spectacular views from the upper rooms where there are two double-bed rooms and two larger rooms, one with three beds and the other with four. On the lower floor is a twin room and a room for four. Separate from the main house is a small block, typically used as staff accommodation.
Single Room Supplement: If you require a single room there is a supplement of €150 payable at the time of booking to reserve this. Depending on availability you may be accommodated at the nearby Soula guest house, a 10 min walk away. The rooms at Soula are ensuite twins. Couples or families wishing one of these rooms may also reserve with the €150 supplement. Please book your accommodation supplements here.
Camping: You can pitch your own tent, or use one belonging to the centre, in our shaded tent area or in the woods–all are served by a shower, sinks and toilet block.
Anilio Activities
Testimonials from previous guests and staff
"Anilio is an opportunity to learn about working and living communally in an idyllic place, nourished by nature, delicious healthy meals and friendship." Isabelle Makowska, June 2016
"Pilion centre, Anilio is a special place, made so by the combining of special people with loving intentions coming together in a beautiful place. Along with great fresh food, comfortable environment, beautiful beaches you also get singing, dancing, hugging, learning and sharing. The face of the divine is recognised everywhere here." — Sarasvati Lewis, June 2015
"I have just completed the Filming workshop with Olina Lorencova, which has been a fantastic learning experience. I was looking for a bit of technical know-how, however it was the creative aspect of filmmaking that I was most keen to develop. Unfortunately you can't teach creativity, it is something that has to be brought out from the inside and needs to be nurtured in order for it to develop. This workshop has helped me tremendously in this regard, allowing me connect more deeply with my artistic and creative side and then using this aspect of my personality to guide the film making process. The workshop has been a wonderfully fun and really engaging experience with the learning seeming to happen at a deep organic level. The Kalikalos Holistic Centre provided a really enjoyable environment in which to undertake the workshop, there is a real sense of community and purpose from the friendly, intelligent people involved with the centre and amazing vegetarian food was cooked fresh each day all of which added greatly to the experience." — John Wood, June 2015
"As soon as I arrived I felt a deep sense of belonging to something much bigger than myself where I could be in service and create value. Anilio has been a life changing experience for me in so many ways and created a deep understanding between my husband and I and how we want to be. Connecting in a circle each morning feels like the foundation for building a community who can work and live together harmoniously despite individual differences.  The diversity of people we met here over two weeks has been such a privilege. Men, women and children of all ages from different countries and cultures – I feel strongly this is the way for living sustainably for us all and the planet. The dream has manifested. Gratitude, love and light, Ho." — Sue-Claire Morris, July 2015
"I was here with my son and friends for holidays and it was a very nice stay! People were very nice and interesting and we were completely free to join workshops or spend our time free. We did the last one, because we liked to spend time with our children. All the mornings we were in the community we painted, played, read and ate fresh fruit from the trees. In the afternoon we went to the beaches, by car, which were also beautiful. It's good to have a car but you can also get a ride (10 minutes to the beach). Thank you very much for a really beautiful hollidays". — Chisla and Gian, August 2015
"It was my best experience at a Kalikalos Centre of my five stays. Such a friendly, welcoming, non-overregulated environment. I think having an abundance of food is also a great part of feeling good and also wine on some nights. I love what you created here this year". — Sebastian Holovski. August 2015
"I would really encourage people to stay here at Anilio/Pelion HC, it allows a perfect, rejuvenating and inspiring blend of discovery, relaxation, community and nature that is rare, and managed by staff who are as down to earth as they are good-natured, kind and generous. I had a ball. Thanks for everything!" — Martin Grimshaw, www.2bwow.org.uk September 2015
"My experience ofAnilio (also known as the Pelion Centre) was, like for many others, a taste ofsomething magic. I don't say that lightly; I'd come to lead a workshop there with some apprehension about how my yoga teaching style would convey in what appeared to be a collection of buildings and makeshift structures in fairly remote forest on the side of a mountain in Greece! Now perhaps I see the cause of my apprehension – because this mountainside is full of magic, layers and layers of it from time beyond. And what became clear was that I needed to be ready for that, to be responsive and without preconceived ideas, to enter into the spirit of the place. 
When I arrived and walked through my room onto the wooden balcony overlooking the land, I could see the the cells of the trees speak of this, the very soil. Anilio hides in the layers of foliage that surrounds it, masking it from views of the fluorescent sea below, like a giant Green Man perched on the hillside. The simple buildings nest into the surrounding nature, so what's 'inside' and 'outside' exist without much separation. The sense of retreat it provides meant that, on our first afternoon, discovering the sparkling beaches below, backed by lush vegetation and wild pine trees (and a ready-made labyrinth shaped in the sand with stones), was rather like finding another planet. These daily trips to the beach to swim, rest, read and enjoy relaxed company had the feel of a holiday, yet were so much more enriching than a holiday could ever be. They offered a natural backdrop to share stories, reflect on life, with people from different countries exploring diverse and interesting fields, and the potential for long-lasting friendships. And so within this tapestry, what people such as me turn up to offer is more like a natural response to what it is to be held in so much beauty and, more than that, to have a sense that all is cradled, right here, in the palms of the gods.  
So, from the poetry to the people! Anilio is more than anything a community, temporary in nature as it forms just over a season,with many people coming and going, but maybe it is the land that enables a depth of relating where something far more permanent is felt. I soon realised that, apart from the structure of my morning yoga workshops, there were also early morning, evening and late night sessions offered by volunteers and facilitators-in-residence that we could all participate in. This not only added to the richness of my experience and gave support and inspiration for my teaching, but also gave me a taste of the community-building, sharing circles and gift exchange that provide a backbone to the Kalikalos vision. Much of the time this was unspoken, but the sense was of something clearly counter-cultural, where relationship is at the centre; each person is invited to venture into a more authentic relationship with themselves through listening to others and sharing aspects of their own journey. It was during these times that, far from being an enclosed bubble, we were able to hear first-hand from Greek members the impacts of the threatened collapse of the their economy happening all around us, as well as many other personal insights and struggles, creating a beautiful and healing meeting point of the 'magic' and the 'real.' 
I could go on, about the wonderful walks, memorable conversations; the laughter as we cooked together, journeyed up and down the hill by foot or by car between the beach and the mountain, or danced into the night. But perhaps it's enough to say I am already excited that I have been invited to return to Anilio to offer another workshop in 2016, and encourage you to come too. With an open and accepting heart, you can expect to be transformed." — Rebecca Brewin, July 2015 www.handtoearth.net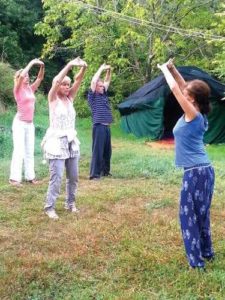 Flexible Dates
UPDATED 25 JUNE: We are welcoming Facilitators in Residence beginning 1 August. Due to restrictions on the number of people onsite at one time, the number of FIRs we are able to accept will vary from week to week depending on the program. If you are interested in serving as an FIR, please contact us. Thank you! Throughout the season, workshop participants and other community members in the Centres, have access to holistic services offered by our Facilitators-in-Residence (FIRs). Over…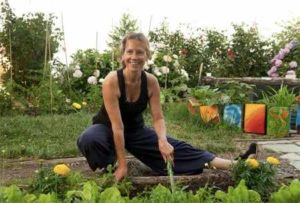 Flexible Dates
UPDATED 22 JUNE: We are welcoming volunteers beginning 14 July to help us set up for our programs which we hope will start on 1 August. Due to restrictions on the number of people onsite at one time, the number of volunteers we are able to accept will vary from week to week depending on the program. If you are interested in volunteering, please contact us. Thank you! Each season, people come from all around the world to volunteer at…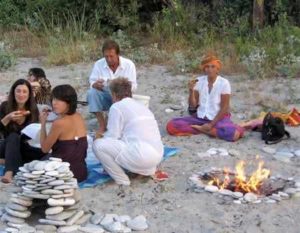 Flexible Dates
UPDATED 25 JUNE: We are welcoming Community Guests beginning 1 August. We look forward to seeing you then - if you have questions, please contact us. Thank you! Experience community living at Kalikalos without attending a workshop! Stay with us as a living-in-Community guest and meet new friends sharing your holistic perspective. Many of our guests choose to come to Kalikalos as Living-in-Community guests without attending a scheduled workshop. Simply being here in the community living environment can be a…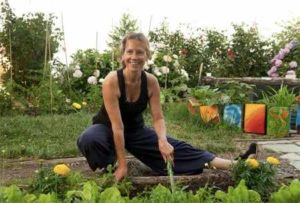 Flexible Dates
The Autumn Community Building Weeks is the last part of our Volunteer Programme after all of the workshops as we begin to pack things away and prepare the site for closure over winter. Things are quieter with fewer people on-site and a focus on packing away and maintenance tasks needed to get ready for winter ahead. This year our takedown programme will run from 10th Sept 20 until 24th Sept 20 and the weekly volunteer contribution is reduced to €75 (instead of €90) during…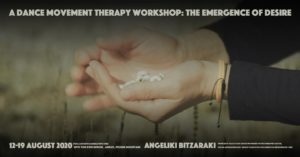 With Angeliki Bitzaraki
August 12 - 19, 2020
Spiti ton Kentavron , Anilio, Pelion Mountain  for a seventh consecutive time This will be a week informed by principles of dance movement psychotherapy that will center our attention to the emergence of desire. The body and its movement will be the territory and the compass for the exploration of listening, acknowledging, expressing and implementing our desires and needs.  The experience of focusing to the embodied being can reveal a body intelligence that has a more direct, intuitive relation to…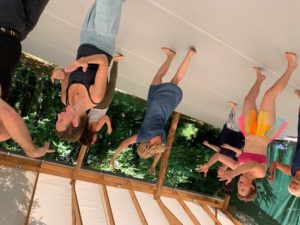 With Neil Pinnock
August 22 - 29, 2020
Summer Waves, invites you to immerse yourself in the Earth, Sea & Sky of this beautiful Greek landscape on the Pelion Peninsula. Renowned as the place where the Greek Gods would take their summer holidays, it is truly a magnificent and relaxing location for a 5Rhythms vacation. Our home will be the holistic community of Anilio on the chestnut forested mountainside overlooking the Aegean Sea. Here we will dance, share laughter, eat amazing local food, swim, explore the locality and…
Read more...