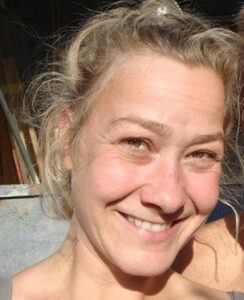 I am a trained architect, freelance artist and musician. More so – I'm an explorer.
It is a joy for me to open the hatches to intuition, to cultivate an art and music making process that is inspired by the soul and grounds this energy in an authentic, embodied, open minded way.
A sense of curiosity helps me to overcome pre-conceived ideas which often leads me to a space of spontaneity, which then may lead to expression, which often suprises. I love that space of discovery, clearer understanding, deeper connection, even wonder and enjoy sharing it with others, finding meaningful and joyful ways to express life in motion through ourselves.
In practical terms, I make costumes, sets and soundpieces for theatre and film and facilitate and contribute to a number of social and community art projects. I also exhibit my art work. With a group of musicians I play improvised music and I have a keen interest in the healing properties of sound and the voice.
For more information please visit my website.
Events with Sabine Schröpel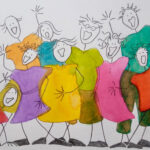 Awaken your Voice and Play
August 2 - 9, 2023
NEW FOR 2023! Close to the crystal clear Aegean Sea, Kalikalos is surrounded by the beautiful Pelion mountains, chestnut forests and stunning beaches. A wonderful place to enjoy a peaceful break whilst exploring the creative potential of your voice. As a group we work together for 4 hours each morning,…