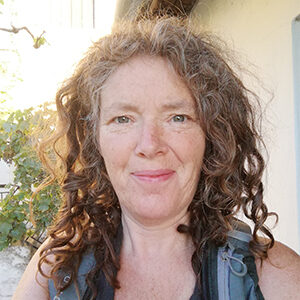 I live in Mid Wales and have always been a great lover of the outdoors. As a child I enjoyed exploring the wilds of Wales and beyond and my love of nature and exploration continues. I am a qualified Walking Group Leader and hold a current Outdoor First Aid certificate, with a wealth of experience in leading walks and camps in the mountains and moorlands of Britain and beyond.
I love leading friends and groups across hills and dales to enjoy the chance to safely explore the landscape.
I am a counsellor, holistic therapist, dog sitter, painter as well as walking guide.
I am a keen swimmer and love to find opportunities for wild swimming.
I discovered Kalikalos and the rugged beauty of the Pelion in 2012 and have delighted in leading walking and swimming holidays from the centre in Kissos. I now have the pleasure of offering this walking and swimming adventure from the nurturing folds of the Anilio campus, Spiti Ton Kentavron.
So if you will, let me guide you through the magical landscape of the Pelion to feel the sun on your back, the earth beneath your feet and the warm waters of the Aegean supporting you.
Guided walking holidays in Greece and Wales | Walks in Paradise
Events with Michelle Brydie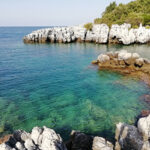 Guided Walking & Swimming Holiday
September 9 - 16, 2023
You are invited to join me for a week of walking and swimming in the beautiful mountains and coastline of the Pelion. These guided walks will lead us down kalderimis, old donkey paths, relics from the days when donkeys were the only mode of transport. We will explore many of…