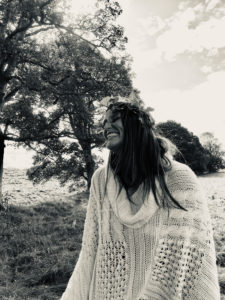 Rebecca Hanscombe is Director of the School of Ecstatic Movement.
The School was founded in 2007 by Amoda Maa Jeevan. Amoda, now lives in the USA and is a successful author of numerous books, with a large following for her embodied enlightenment teachings. She passed the gift of this work to Rebecca in a transformational apprenticeship (that cracked open the ego and planted seeds of compassionate wisdom into the heart and mind) that lasted for 7 years.
Alongside this body of sacred work, Rebecca became a professional Shamanic Practitioner, in her own right and through the Sacred Trust, where she is now a Faculty member.
Through her deep connection with the body-based energetic & shamanic practices, she has been inspired & guided to develop an important new training – 'The Shaman's Dance'.
She has over twenty-five years experience as a teacher & facilitator of group process, which includes having introduced dance/movement therapy to inmates within Holloway closed category prison – a pioneering role with which she was involved for well over a decade.
Rebecca carries a profound understanding of what it is to enter into and then navigate transformational, non-ordinary states of consciousness and how to traverse these epiphany states.
"Our bodies are a truly a gift and when allowed to be moved, shaken and stimulated into the complete surrender that these sacred ceremonies inspire, can lead to transformation. Through our bodies we connect to the spirit, shedding emotional, mental and physical dis-ease that may have been holding us back for years."
Rebecca's gift of 'allowing sacred space' is a way that is down to earth, welcoming and safe for all. She develops and facilitates transformational workshops, 1-2-1 programs and events on-line and across Europe.
She is a Lead Trainer for clients such as Success Resources and Real Life property Group.
She is also the mother of a strong and subversive 13-year-old and lives along with her husband dog and feral cat in the beautiful lush green wild Wye Valley of South Wales.
Events with Rebecca Hanscombe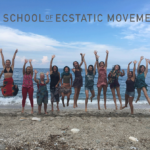 Ecstatic Awakening Dance Immersive Retreat
August 19 - 26, 2023
This fully immersive, seven-day residential retreat is a follow-on to The School of Ecstatic Movement's exclusive online Ecstatic Awakening Dance™ Teacher Training. For more details about this program and to register for the online training, please visit the School of Ecstatic Movement. The School of Ecstatic Movement is celebrating 14…